Last night I ventured south to see Sarah Blasko play at the Green Room. I had neither seen Blasko nor been to the Green Room before but it was a thoroughly enjoyable experience once the excessive queueing was out of the way (more on that in a second).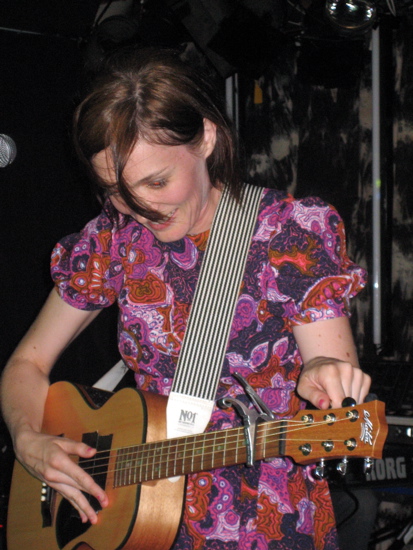 So many people turned up last night that she's playing a second gig today with tickets on sale at 10am and the doors open at noon. I believe tickets are still $25.
The gig had been advertised a little and tickets were only available at the door from 7pm. I turned up at 6.30 and joined a queue that had already snaked its way around every wall in O'Shaes apart from the bar. Queue management was a little bizarre and somehow half the line ended up going out the back door and back in the same door. This caused some angst once they actually started selling tickets as security decided the people outside had to be let through before those behind them inside (which was my little group at the front) — but the security guy/barman doing this was quite charming and assured us we would make it in upstairs. We did — but only just. There were enough people still queueing after it sold out to fill the Green Room a second time over (hence why they're puttting on another show).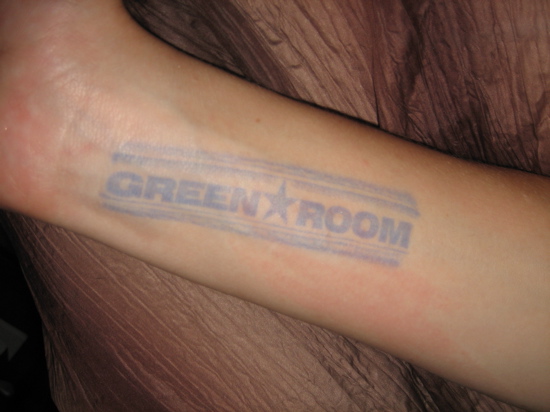 After finally securing the sacred stamp a little before 8pm, we hung round (with drinks) waiting for the doors to open. It soon became evident that Canberrans have embraced the queue as much as the English, since another was forming to wait to get in the door. I will add here for those not acquainted with the venue, that there's nowhere to sit while you're waiting except the sticky floor. Sore feet.
Anyway, all that fuss aside once we got in (and managed to get almost as many stools as people to sit on) the gig was really very good. The support was The Devoted Few, who also played as Blasko's backing.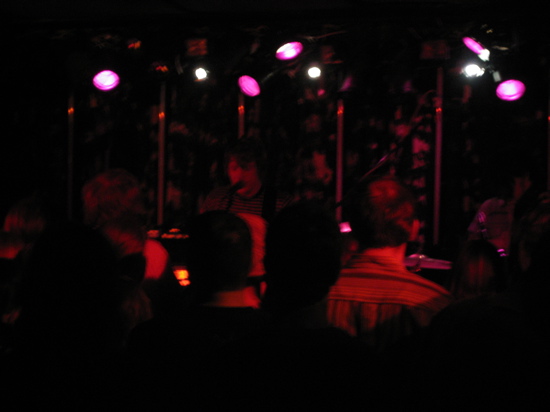 They played…um, rocky music (sorry, not so good with genres) that was LOUD. JB would like me to point out here that I have a very low tolerance for loud music. But most of The Devoted Few's songs I could not only feel in my chest, but also just at the base of my throat which was rather unpleasant. However they did quieten down a little in the second part of their set and some of their songs were very enjoyable. Amazingly I got a little sleepy though all this noise, but a vodka and Red Bull-substitute fixed this.
After a short break Sarah Blasko finally came on (around 10.30). As mentioned above, I didn't know her music apart from the few songs that get heavy airplay on JJJ. But boy is she good.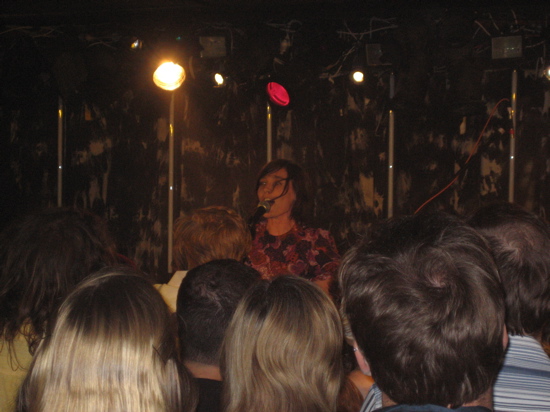 She is a very expressive performer, both with her voice and her enormous eyes (which, coupled with her delicate features, reminded me of Maggie Gyllenhaal). The unique timbre of her voice always cut through the assorted guitars, drums and keyboards even when I thought the mixing might be going to be unbalanced. The set was a good mix of upbeat and soft, old and new and she had a nice amount of banter between each song. When calls started from about halfway through the set for her to play Flame Trees, she just laughed and said she didn't think they'd be playing that one tonight.
This was the first gig of her latest "intimate" tour and I would throughly recommend to anyone who missed out to put a dummy in your work chair and head on down to the Green Room as soon as you can to see today's show.